This is for every entrepreneur out there who is up against the wall, feeling defeated or alone.  We yearn for validation of our ideas and want so badly to change the world.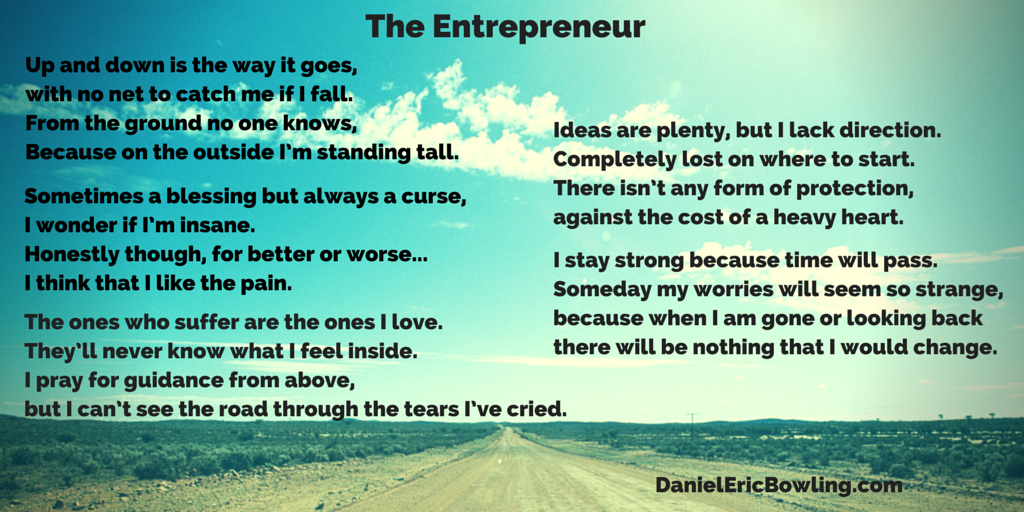 I am here to say that you are not alone.  I know what you are going through and so do millions of other amazing individuals.  Lets come together and be a part of something bigger.  Lets come together and change the world.
A movement has begun within the ranks of the working class.  A movement towards self reliance.
We need leaders to step up and take charge towards a better tomorrow.  United we will stand, and together we will grow!
If you're interested in joining the cause then sign up for the newsletter for updates!   Click Here to Subscribe
The Entrepreneur 
Up and down is the way it goes,
with no net to catch me if I fall.
From the ground no one knows,
Because on the outside I'm standing tall.
Sometimes a blessing but always a curse,
I wonder if I'm insane.
Honestly though, for better or worse…
I think that I like the pain.
The ones who suffer are the ones I love.
They'll never know what I feel inside.
I pray for guidance from above,
but I can't see the road through the tears I've cried.
Ideas are plenty, but I lack direction.
Completely lost on where to start.
There isn't any form of protection,
against the cost of a heavy heart.
I stay strong because time will pass.
Someday my worries will seem so strange,
because when I am gone or looking back
there will be nothing that I would change.
-Daniel-
You might like this post about learning to take criticism: